Film review: WILD, from 'Built For Speed'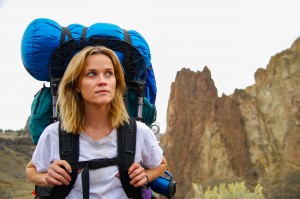 With its factual story of a troubled young woman trekking through rugged wilderness, the engrossing drama Wild evokes immediate comparisons with Sean Penn's Into The Wild and the recent Australian film Tracks.  While not quite as moving as Into the Wild, this film is much more successful than Tracks in conveying a story of a young woman's quest for fulfilment and redemption.
Wild dramatises the journey 27-year-old Cheryl Strayed (Reese Witherspoon) took in 1995 that saw her traverse 1,100 miles along California's Pacific Crest Trail, a journey that included the unforgiving terrain of the Mohave Desert.  Through flashbacks the film reveals the traumatic events that led her to undertake this journey: the violence her estranged father inflicted on her mother, a family death and Cheryl's self-destructive spiral into heroin addiction and random sexual encounters.  The trek becomes not only a physical challenge but a psychological journey in which Cheryl tries to confront and exorcise the demons of her past. Her journey also seems like a form of self-flagellation as she attempts to atone for her destructive life choices.
Although the impish Witherspoon seems too squeaky clean to be a heroin addict, she is still excellent as Cheryl lending her an emotional depth and a touching mix of grittiness and vulnerability.  Laura Dern although only viewed in fragmented flashbacks,  contributes a touching performance as Cheryl's sadly optimistic mother.
More than Tracks this film draws us into the protagonist's world with director Jean-Marc Vallée cleverly focusing on the everyday physical demands of the trek which make it all the more realistic and involving.
As in Tracks Cheryl's lone journey invokes preconceptions about the wisdom of a woman travelling alone.  The script, based on Cheryl's book and co-written by Nick Hornby, plays with these preconceptions as Cheryl encounters what at first appear to be stereotypical male predators but who turn out to be decent people.  Still, the film doesn't ignore the sexual threats faced by a female alone in the forest as Cheryl still experiences a lot of creepy, sexist and intimidating behaviour.  Similarly, the film is candid about the physical demands of the journey for Cheryl as in one comical scene where she struggles to stand with her overstuffed back-pack and ends up on her back like an upturned turtle.
The film benefits from the stunning scenery of the Pacific Crest Trail and cinematography from Yves Bélanger which captures the beauty and threat of this remarkable landscape.  Wild also features a terrific soundtrack with classics from Leonard Cohen, Portishead and Simon and Garfunkel.
Some viewers may find this film's premise feel a little too familiar but few could deny that Jean Marc Vallée, who did such a fine job with Dallas Buyers Club, has crafted a potent and moving human drama.
Nick's rating: ****.
Genre: Biopic/ drama.
Classification: MA.
Director(s): Jean-Marc Vallée.
Release date: 22nd Jan 2015.
Running time: 115mins.
Reviewer: Nick Gardener can be heard on "Built For Speed" every Friday night from 8-10pm right here on 88.3 Southern FM.  Nick can also be heard on "The Good, The Bad, The Ugly Film Show" podcast. http://subcultureentertainment.com/2014/02/the-good-the-bad-the-ugly-film-show 


Related Posts: