Grand Wazoo founder, arranger, band leader, composer and trumpeter John Montesante (with manager Paula) – interview with Purple Haze host Mark Copolov (Podcast 1 hr 43 mins)
In this podcast, Purple Haze presenter Mark Copolov interviews Grand Wazoo founder, band leader & trumpeter John Montesante. The interview features tracks from two of the Grand WaZoo albums, Band of 1000 Dances (studio) and Soul Monster Live. Mark chats with John about his musical life and passion for Afro-American music, his soul arrangements and the joys and tribulations of being a band leader and arranger. With them in the studio is Paula,  a long time associate of John, who helps fill out the big picture.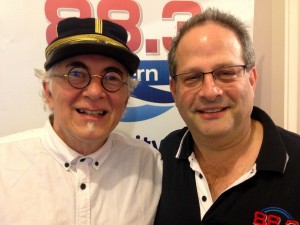 John Montesante and Mark at 88.3 Southern FM
Podcast: Download
Subscribe: RSS
GRAND WAZOO is a legendary 13 piece Soul band, founded in 1981 by Trumpeter & Arranger, John Montesante, who still leads the Band today.For more than 34 years, this stellar band has provided the most authentic and entertaining Black Soul Music experience in Australia, featuring the great hits & dance tunes of the 1960s-70s, rare gems not performed by other outfits, along with Grand WaZoo originals in that same big brassy style.  It also performs material from iconic horn outfits, such as Blood Sweat & Tears and Tower of Power.
Over the decades, Grand WaZoo has been a rite of passage for many of the finest Australian musicians, who have gone on to stellar careers. Other bands that have followed in the Soul genre, have also taken their inspiration from this mighty band. GRAND WAZOO offers musical excellence, longevity, experience and entertainment value second to none; and is widely revered as a "Soul Institution". Grand WaZoo has backed and supported international and local well-known artists, including : The Wilson Pickett Band, Sam & Dave, Venetta Fields, Leo Sayer, Ross Wilson, Anthony Callea, Rhonda Burchmore, Jon Stevens, Joe Camilleri, Max Merritt, Normie Rowe, Mahalia Barnes, Ian Stenlake, Tim Campbell, Jeff Duff, Marcia Hines, Kate Ceberano, Hollywood Brown, Bob Valentine, Peter Cupples, Hot Chocolate, Lisa Edwards, Renee Geyer, Jackie Love and many others.
As well as regular live appearances in the media, Grand WaZoo has recorded 4 band albums and also backed Max Merritt on his 40 Year Live Concert album.
Links:
http://www.facebook.com/grandwazoosoul
http://www.sonicbids.com/grandwazookingsofsoul
http://www.cdbaby.com/cd/grandwazo
Regards,
Mark Copolov
mcopolov1@nullbigpond.com
www.mcopolov.com
Purple Haze is sponsored by Classic Cars with Character
Related Posts: