SECA PANEL PODCAST #14 2021/2022
The SECA Panel closed out the home & away season on Sunday and wrapped up all of the final ladders, finals matches and venues plus plenty of other stuff.
The media player below will give you the full program on demand.
Photo (courtesy Sonia Carroll):-
Not too much doubt about that one as Nick Huttley disturbs Paddy Inglis' furniture and Le Page marched into the finals at East Sandringham's expense.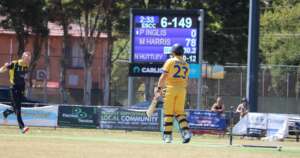 Related Posts:
Podcast (2): Download
Subscribe: RSS