SECA PANEL PODCAST 7 2023/2024
Round 6 from last Sunday, day one of round 7 and round one of the midweek T20 competition were all on the agenda for the SECA Panel this Sunday. Hear this weeks show via the media player below.
Pictured (courtesy Ian Wilkinson Photography):-
Community cricket at it's best as Hampton Central and Hampton United players discuss the days play after day one of their Woolnough Shield contest.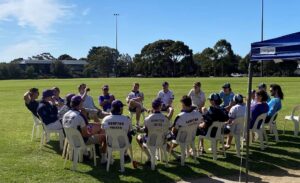 Related Posts:
Podcast (3): Download
Subscribe: RSS