Elizabeth Macquarie story – podcast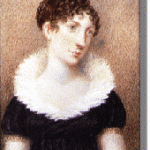 Listen again to the story of Elizabeth Macquarie, wife of Governor Lachlan Macquarie in early Australian history. Broadcast on Songs of Hope on 9Apr17.
Also listen to a Palm Sunday poem by Ellen Carr.
Our Words for Life this week was by Rev Kevin Pedersen of Ormond Anglican Church here in Melbourne.
Also listen to one hour of Songs of Hope Christian music.
Podcast (2): Download
Subscribe: RSS
Podcast (3): Download
Subscribe: RSS
Podcast (4): Download
Subscribe: RSS
Podcast: Download
Subscribe: RSS
Songs of Hope website
Related Posts: