New poem – Bouncebackability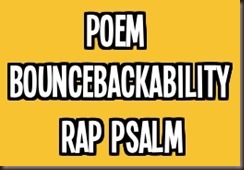 Songs of Hope on 22 June featured a new poem by Ellen Carr in the Spotlight segment. The topic was bouncebackability and the title of the poem "Rap Psalm". Here it is below as our first podcast for 22 June for your enjoyment
The second podcast is our hymns podcast for 22 June. Hymns include:
Praise my soul – Treorchy Male Choir
There's a light upon the mountains – Jubilate singers
I hear Thy welcome voice – Royal Dunedin Male Choirs
These hymns are three of the hymns on "Songs of Praise" TV on Channel 2 on 15 June 2014
The third Songs of Hope podcast for 22 June 2014 is a recent Pentecost sermon from Rev Mark Durie of St Marys Anglican Church. The title is "The spirit comes".
The fourth podcast is a one hour recording of the Songs of Hope program broadcast on 22 June 2014
Podcast (2): Download
Podcast (3): Download
Podcast (4): Download
Podcast: Download
Click the play button for the audio or right click download to download.
Songs of Hope website: http://songsofhope883.com
Related Posts: