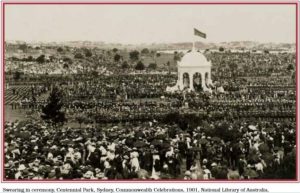 Next Sunday, 1January, is the anniversary of Australia's Federation Day. On this day in 1901 our nation was born. Our first Prime Minister and Governor General were sworn in a big ceremony in Sydney. Songs of Hope this Sunday 1Jan17 on 88.3 Southern FM will feature:
the story of Australia's Federation Day, 1 January 1901 at 8:45am. Our nation is 116 years old on Sunday
a talk by Pastor Ian Mitchell of Eastleigh Community Church in East Bentleigh to welcome the new year. The title is "Out with the old and in with the new" at 7:30am. Talk time is 27 mins.
plus there will be the usual great hymns and Christian music.
Here are the details of the program:
7:00am Part 1 – Bruce DJ
7:10am Our Daily Bread (1m)
7:30am Ian Mitchell (27m)
8:00am Part 2 -Rod DJ
8:10am Prayer for the new year
8:20am Christian News Bulletin
8:45am Story – Australia's Federation Day 1 January 1901 (4m)
9:00am Finish of program