Good Friday Songs of Hope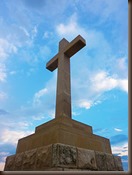 There will be a special Good Friday "Songs of Hope". We go to air 8am to 9am this Friday, Good Friday on Southern FM 88.3. Easter is the most spiritual time of the year for the Christian community and we remember this this Friday. This program is for those Christians in Kingston and Glen Eira who cannot get to church to worship on Good Friday.
For Easter Service times in Kingston go here.
Related Posts: