The Catholic Guy comes to Southern FM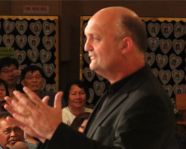 Bruce Downes, aka "The Catholic Guy", has just completed a series of inspiring talks in Cheltenham parish. Last Tuesday "Songs of Hope" presenter Rodney Carr caught up with Bruce at Southern FM studios and recorded an interview.
Bruce has been doing "The Catholic Guy" program on the Christian TV channel on Foxtel for five years.
The interview will go to air next Sunday 28 Oct 2012 at 8:45 a.m. during the Songs of Hope program.
For more information on "The Catholic Guy" go here: http://thecatholicguy.com/
Songs of Hope website: http://songsofhope883.wordpress.com/
Keywords: Christianity, faith, God, hope, hymns, Jesus, Lord, religion, spirituality
Related Posts: