Southern Sport Summer Edition Resumes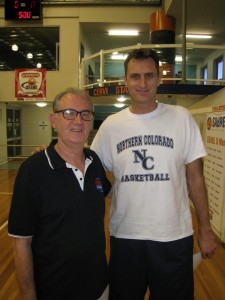 88.3's Mr. Basketball Bruce Mitchell (who is pretty tall) with Chris Anstey.
It's almost summer and the flannelled fools return to the field. Summer Sport resumes this Sunday 9am – noon with all of your local sports news from Tennis (Lazza), Lawn Bowls (The Gambler), Southern District Cricket Association (Willow & Frog), Basketball (Bruce), City of Moorabbin Cricket Association (The CMCA Panel) and other local sports stuff. Results and interviews and some light hearted discussion about about local sport. This week Chris Anstey talks to Bruce about his new role as the Melbourne Tigers coach and reminisces with one of Oz's greatest ever dribblers a little bit as well. Southern Sport, every Sunday morning 9 til noon.
Related Posts: