Hey Jude claims Retro is Cool – and proves it

Hey Jude here….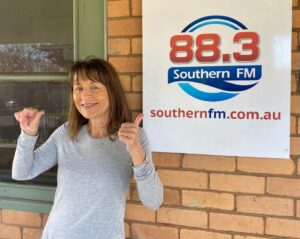 Those darn paparazzi have snapped me doing the Hitch Hiker. I was celebrating 'cos we've reached the mid 60's on Stay Awhile and so … heaps of Aussies are hitting the charts.    Had just featured Bobbie & Laurie ("Judy Green", "I Belong with You", "Through the Eyes of Love" and the inimitable "Hitch Hiker"). The week before I'd played MPD Ltd … and  Ray Brown & the Whispers ("Twenty Miles", "Pride" and "Fool Fool Fool"). Like Wow!
The following week we heard The Loved Ones with the uber-cool Gerry Humphries out front and then… a Special tribute show for The Easybeats – with The Kinks thrown in for good measure … (Oh, be still my galloping heart!)
The best thing about 60's music is – I remember it all. As do many of you – 'Cos we were there.  For many of us, it's the soundtrack of our (misspent) youth! So, whether you're visiting for the first time – or revisiting… it's still the best music on the planet…            let's groove together.
Upcoming Specials: The Supremes, The Mamas & Papas, The Hollies, Dusty Springfield, The Beatles, The Stones, Simon & Garfunkel… to name just a few.
One anecdote shared from 1966: girlfriend and I got all dolled up and headed for Powerhouse (ultra cool live-music dance venue on Albert Park Lake). We were denied entry… (not because we were only 14) but my buddy was wearing a pants suit!                Clearly we had to find another way to get in. AND WE DID… then hit the dance floor with the divine Tony Worsley & the Fabulous Blue Jays – "Just a Little Bit", "Velvet Waters" and so much more … Yippee!
Stay Awhile with me – Judith – for more of this awesome trip… Mondays 11 AM til 12 Noon.
Be there or … totally … Be Square.
Related Posts: