Film review: SPOTLIGHT, from 'Built For Speed'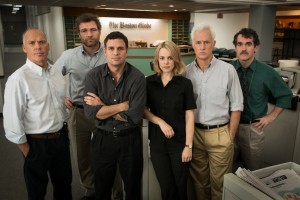 Spotlight depicts the Boston Globe newspaper's 2001 inquiry into allegations of child sexual abuse by members of Boston's Catholic clergy. As a detailed dramatisation of a major piece of investigative journalism, Spotlight follows in the esteemed tradition of films like Zodiac and All the President's Men.
The film reveals how, in 2001, the Globe's newly-appointed Chief Editor, Marty Baron (Liev Schreiber) directed a small investigative section named Spotlight to follow up a story about cases of possible child sexual abuse that was being prosecuted by local lawyer Mitchell Garabedian (Stanley Tucci). As they dug into the story, journalists Mike Rezendes (Mark Ruffalo), Sacha Pfeiffer (Rachel McAdams), Matt Carroll (Brian d'Arcy James) and their boss Walter Robinson (Michael Keaton) uncovered what appeared to be widespread abuse and cover-ups involving prominent church hierarchy. They also discovered that the unusually insular mentality in Boston and the Catholic Church's influence over every aspect of the city made the job of unearthing the truth phenomenally difficult.
Director Tom McCarthy and co-scriptwriter Josh Singer do a fine job of encapsulating complex events, legal proceedings and convoluted journalistic processes into a clear narrative. Even though the film presents an extensive cast of characters connected to the various abuse cases and follows numerous paths of inquiry, it never becomes a confusing morass.
While he gives Spotlight a similar level of detail and journalistic rigour to Zodiac and All the President's Men, McCarthy's low-key and unobtrusive film-making style means this film lacks the indelible cinematic qualities of those classics and occasionally has the prosaic style of a telemovie.
The restrained direction means it's up to the top-drawer cast to ramp up the drama and for the most part they do a terrific job. The fire and ice combination of Ruffalo and Keaton, who play the furiously driven Rezendes and the reserved Robinson respectively are riveting throughout. Also, Stanley Tucci delivers a powerful but nuanced performance as the eccentric attorney Garabedian while McAdams and James provide memorable turns in less prominent roles. Mad Men alumnus John Slattery is as wonderfully acerbic as ever in the role of Globe editor Ben Bradlee Jr. Liev Schreiber's Baron is, however, a bit of an oddity; earnest, enigmatic and slightly creepy he's positioned as a major character early in the film but spends much of the movie on the sidelines.
Some of the film's potential impact has been diluted by the fact that it has been 15 years since these Boston Globe articles were published and in that time the issue of sexual abuse by Catholic clergy has received considerable media coverage. Consequently, its revelations are not as shocking as they might have been a decade ago.
A few quibbles aside this is an important film about the necessity of a responsible independent media to combat institutionalised abuse and the seemingly unassailable power structures that allow that abuse to continue.
Nick's rating: ***1/2.
Genre: Drama.
Classification: M.
Director(s): Tom McCarthy.
Release date: 28thJanuary 2016.
Running time: 128 mins.
Reviewer: Nick Gardener can be heard on "Built For Speed" every Friday night from 8-10pm right here on 88.3 Southern FM.  Nick can also be heard on "The Good, The Bad, The Ugly Film Show" podcast. http://subcultureentertainment.com/2014/02/the-good-the-bad-the-ugly-film-show
Related Posts: