Film review: THE DANISH GIRL, from 'Built For Speed'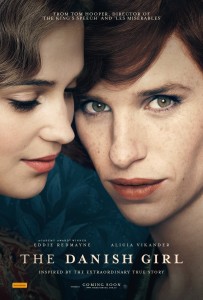 The Danish Girl sensitively depicts the life of Danish landscape painter Einar Wegener (Eddie Redmayne) and his transition from male to female through gender reassignment.
Einar was married to painter Gerda (Alicia Vikander) but came to the realisation that he felt more comfortable as a woman. In the mid-1920's he underwent the first gender reassignment surgery and became Lili. While Gerda was completely supportive of Einar's decision, the prevailing attitudes of the society in which they lived produced phenomenal obstacles and stresses on their relationship.
In its depiction of Einer's gender reassignment The Danish Girl delivers a slow-moving but emotionally gripping story of a landmark event in both medical science and the status of trans-gender people.
The chameleon-like Eddie Redmayne once again disappears into his character and provides a sensitive and engrossing portrayal of the courageous Einer/Lili.  Alicia Vikander, who can hardly put a foot wrong at the moment, is equally impressive as Einer's plucky wife Gerda Wegener.  A strong supporting cast includes the ubiquitous Ben Wishaw as empathetic friend Henrik and Matthias Schoenaerts as supportive but creepy art dealer Hans Axgil.
The film also features subtly powerful direction from Tom Hooper who emphasises interior shots to convey Einer's sense of imprisonment as a man while also incorporating impressively detailed production design that reflects the characters' artistic sensibilities.
A lot of hype has built up around this film which seems inappropriate for such an understated piece of cinema. The Danish Girl does not leap off the screen, it's a chamber piece that requires patience from its audience but those willing to embrace its humanism and subtle charms will be rewarded.
Nick's rating: ***1/2.
Genre: Drama/ biopic.
Classification: M.
Director(s): Tom Hooper.
Release date: 21st January 2016.
Running time: 119 mins.
Reviewer: Nick Gardener can be heard on "Built For Speed" every Friday night from 8-10pm right here on 88.3 Southern FM.  Nick can also be heard on "The Good, The Bad, The Ugly Film Show" podcast. http://subcultureentertainment.com/2014/02/the-good-the-bad-the-ugly-film-show
Related Posts: