Podcast – Mark Holden – Part 2 of 2 – the Holden Brothers Travelling Circus, 'Live in the studio' with Purple Haze host Mark Copolov (1 hour)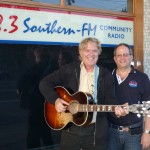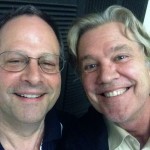 Mark Holden and Mark Copolov at 88.3 Southern FM 29/10/2014
In this podcast, Mark Holden, 70's pop singing idol, composer, actor, media personality and barrister talks about his new project, the 3 cd & dvd set 'The Holden Brothers Travelling Circus". The two Mark's are also joined by top Australian music promoter Michael Matthews.
Below is the press release for this new project:
The Holden Brothers Travelling Circus:
One legged trapeze artist Adolphus Holden founded The Holden Brothers Travelling Circus in 1892. Adolphus had 10 sons – all of whom played instruments – and one  daughter, who all journeyed around Victoria  by horse-drawn wagons,  stopping to show in every village  and hamlet from Melbourne to Ceduna. This was the  start of one of Australia's longest-running  family circuses. Little did  Adolphus know that his legacy  would be passed down from  generation  to generation, and  continue to  this  day. The fantastical, bygone era  of the Holden's lives on through the marriage of music, stories passed down from family to family and stills from classic heritage footage.
Singer, songwriter and media personality Mark  Holden continues to  honour his family's history.  In 1998, Mark  and young  filmmaker Amiel Courtin–?Wilson  travelled with  the Ashton's  Circus, who joined  forces with  the Holden's  in the 1930s.  On  the journey, he met  the  matriarch, Phyllis Ashton, who passed on footage  of the circus of yesterday like the first live outside broadcast recorded on cinescope called Ampol Show of Surprises . Her son Mervyn Ashton gave Mark all his 16mm footage from the 1950's  and 60's which has never been seen before.
The footage is a remarkable peek  into the colourful life lived by  circus  families over half a century ago. Mark has written songs with his family, inspired by tales of the Holden Brothers Travelling Circus, as a tribute to the lives lived the  generations  before him. The classic footage provides a mesmerising backdrop to the tales sung by Mark and his family, ho  have banded together to perform under the name of The Holden Brothers Travelling circus.
Bruce Permezel, director and editor of ABC's multi award-winning series The Choir Of Hard Knocks, has brought the scenes to life with editor Duncan Balmain. Five 25-minute short films under  the title of The Holden Brothers  Travelling Circus unify the old with the new. The Holden Brothers  Travelling Circus  is available from Tunes.
Podcast: Download
Subscribe: RSS
Purple Haze is sponsored by Classic Cars with Character
Related Posts: