Derryn Hinch interview with Mark Copolov on Purple Haze – Podcast (3 hours exactly) – includes music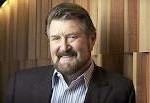 In this podcast, 88.3 Southern FM 'Purple Haze' presenter Mark Copolov interviews iconic Australian media personality Derryn Hinch. Some of the topics they discuss are :
– some of Derryn's favourite songs
– some of the books he has authored
– some of his work on TV, radio, film & stage
– his recent health issues
After the interview finishes (at 2 hours 18 minutes), Mark has added some more of Derryn's favourite songs to round the podcast off to exactly 3 hours
Derryn's official website is located at : http://www.humanheadline.com.au/
Click play below to hear the show in full.
Podcast: Download
Subscribe: RSS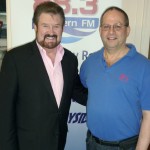 Derryn and Mark at 88.3 Southern FM
Bio on Derryn :
Derryn Hinch is an Australian media personality, best known for his work on Melbourne radio. He was the host of 3AW's drive time radio show until December 2012 and he is currently National Public Affairs commentator for the Seven Network. He has also been a police reporter, foreign correspondent, newspaper editor, television show host, actor (usually playing as himself) novelist and vintner.
Hinch completed his contract with 3AW in December 2012. Hinch hosted Beauty and the Beast on the Seven Network between 1982 and 1983.From 1987 to 1991, Hinch hosted his own current affairs show on the Seven Network titled Hinch, which later moved to Network Ten where it ran from 1992–1994. In 1994, Hinch joined the Nine Network and hosted The Midday Show for approximately a year. He has also appeared on Dancing with the Stars, Underbelly and Millionaire Hot Seat as a guest playing for charity.
On radio, Hinch has hosted 3AW's Drivetime radio show since 2003 & he has also formerly hosted a morning program at the station. In September 2012, Hinch re-joined the Seven Network as National Public affairs commentator, though there were rumours Hinch might make a comeback.
Mark's next guest will be American singer Melanie Safka who had man international hits including : Lay Down, What Have They Done To My Song Ma, Brand New Key, etc. That will be late October, early November
Other podcasts by Mark Copolov include :
– interviews with Russell Morris, Normie Rowe, Colleen Hewett, Micky Dolenz, Paul Anka, David Essex, Daryl Braithwaite, Gene McDaniels, Mike Heatley, Andy Timmons, 'Live In The Studio #1 & #2 (misc. local acts)'
Website details :
88.3 Southern FM : www.southernfm.com.au
Mark Copolov : www.mcopolov.com
Purple Haze is sponsored by Classic Cars with Character
Related Posts: