26 May Praise and Worship Podcast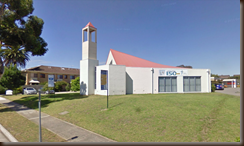 Listen again to Songs of Hope one hour podcast for 26 May 2013. One hour of Christian praise and worship songs. Includes a 4 minute segment on Johannes Kepler at about the 45 minute mark.
Podcast: Download
Subscribe: RSS
The church at right is Southern Community Church of Christ in Cheltenham, Melbourne, Australia.
Songs of Hope website: http://songsofhope883.com
Related Posts: