Barnett got rid of Melbourne slums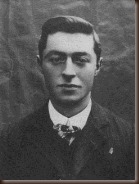 Listen again to the story of Oswald Barnett. He was the devout Christian who worked to help the poor in the slums of Melbourne in the early 1900s. He was instrumental in founding the Housing Commission and moving slum dwellers into good accommodation. Broadcast on Songs of  Hope on 3 May 2015 at about 8:45am
The Wesley Covenant Prayer is also podcast. Play time is 1 minute
Analucias Bible promises for week 14 is also available.
Listen again to one hour of Christian music from the Songs of Hope program.
Words for Life for 3 May is a sermon by Rev Kevin Pedersen entitled "Word and Fruitfulness". It asks the question why you work, and gives the Christian answer. Play time is 21 minutes.
Podcast (2): Download
Subscribe: RSS
Podcast (3): Download
Subscribe: RSS
Podcast (4): Download
Subscribe: RSS
Podcast (5): Download
Subscribe: RSS
Podcast (6): Download
Subscribe: RSS
Podcast (7): Download
Subscribe: RSS
Podcast: Download
Subscribe: RSS
Songs of Hope website: http://songsofhope883.com
Related Posts: