One hour Christian music 24/5/2015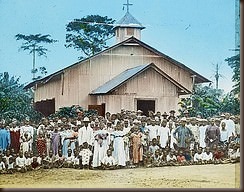 Listen again to one hour of the Songs of Hope program from 24 May 2015. The recording starts with traditional hymns and them moves to contemporary Christian praise and worship. At 8:45 a short story of a "Christian who made a difference" is recounted.
The Songs of Hope hymns podcast includes the following:
Rick Riso – Great Is Thy Faithfulness (04:20)
Dallas Christian Adult Concert Choir – Dear Lord And Father Of Mankind (02:53)
Ashley Cleveland – I need thee every hour (03:05)
Words for Life for 24 May is a sermon by Rev Kevin Pedersen entitled "Work and others: a job worth doing". It continues Kevin's series on the topic of "work" and gives the Christian answer. Play time is 20 minutes. Broadcast on Southern FM 88.3 on 24/5/2015 on the Songs of Hope program.
Podcast (2): Download
Podcast (3): Download
Podcast (4): Download
Podcast: Download
The church above is Akaniobio Church in Calabar, Nigeria in 1910.
Songs of Hope website: http://songsofhope883.com
Related Posts: