Education for the rural poor in Australia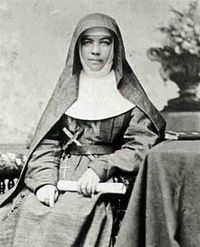 Tomorrow, Sunday 18 October, on Songs of Hope at 8:40am hear the story of Mary MacKillop. She was an Australian nun who founded a congregation of religious sisters that established a number of schools and welfare institutions throughout Australia. Her emphasis was education for the rural poor.
Also hear Pastor Ian Mitchell and his recent sermon on dysfunctional families at 7:30am
The rest of the time is great Christian praise and worship music.
Here is tomorrows program:
7:00am Chris host
7:10am Our Daily Bread (1m)
7:30am Talk Pastor Ian Mitchell (22m)
8-9am Rod host
8:10am Prayer – Queen Elizabeth I
8:25am Bible promises
8:40am Story – Saint Mary MacKillop
Related Posts: