One hour Christian music podcast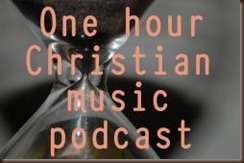 Listen again to our one hour podcast of Christian music, broadcast on Sunday 31 May 2015 on Songs of Hope on radio station Southern FM 88.3.
Our podcast prayer is Psalm 20, a prayer for victory – presented by Hugh Elphinstone.
Songs of Hope songs podcast for 31 May 2015 includes the following songs:
Lord keep my heart – One Circle album
I stand in awe – Whats new in praise and worship 2005 album
Welcome King of Kings – composer Noel Richards
Words for Life last Sunday 31 May 2015, was by Rev Mark Durie of Oaktree Anglican church in Melbourne. His topic was "Pentecost" and what it means to Christianity. Pentecost was the birth of the Christian church. The Bible reference is Luke 24:44-49. Talk time is 21 minutes.
Podcast (2): Download
Subscribe: RSS
Podcast (3): Download
Subscribe: RSS
Podcast (4): Download
Subscribe: RSS
Podcast (5): Download
Subscribe: RSS
Podcast: Download
Subscribe: RSS
Songs of Hope website: http://songsofhope883.com
Related Posts: