Songs of Hope podcast Sunday 15/3/2015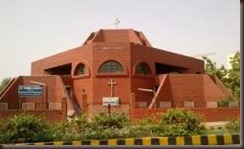 Listen again to Songs of Hope's one hour podcast for 15 March 2015. The program has an Indian flavour with 3 hymns recorded in India, and with the short story of Indian Christian doctor Kiran Martin at the 3/4 hour mark
The songs podcast for 15 March 2015 includes the following songs:
Faith hope and love – Steve Grace (Australian)
My heart is filled with thankfulness – Stuart Townend
Your love never fails – Chris McClarney
Words for Life is by Emmy Wilson, who works in prison ministry in the UK. Her talk title is "How to be a responsible Christian leader" and her Bible reference Titus chapter 3. Emmy gave this talk recently at Oaktree Anglican in Caulfield (previously called St Mary's). Talk time is 22 minutes.
The church above is St Lukes church in New Delhi, India
You can use your andoid phone to get Songs of Hope. A good app is "Podcast Addict".
Podcast (2): Download
Subscribe: RSS
Podcast (3): Download
Subscribe: RSS
Podcast (4): Download
Subscribe: RSS
Podcast (5): Download
Subscribe: RSS
Podcast: Download
Subscribe: RSS
Click the play button for the audio. Right click download to download

Songs of Hope on tunein radio
Related Posts: