Usain Bolt story – podcast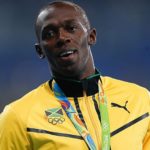 Usain Bolt has been a running legend for years, winning the triple triple at Olympics. Hear his story in 5 minutes. Broadcast on Songs of Hope yesterday
Also podcast is one hour of Songs of Hope from Sunday 20Aug17
"Words for Life" is by Ps Rod Buckingham of Bayside Church and is entitled "Market place ministry". It goes for 22 minutes.
Our gospel music podcast for 20Aug17 includes:
Marie Knight – Does Jesus Care
Sisters Of Song – In God's House
Sister Mathews – Stand by Me
Our contemporary Christian songs set includes the songs:
This is amazing grace – Shane and Shane
Lion and the lamb – Shane and Shane
What a beautiful name – Hillsong
Cornerstone – Hillsong
Songs of Hope website.
Related Posts: