Matt Hetherington, this week on The Vibe, 23rd Feb.
Join us for another Huge Edition of The Vibe this Sunday 23rd February.
We have Melbourne Music Icon Matt Hetherington coming in for a chat. He has had a big year, with the huge success of "Dirty Rotten Scoundrels"
We will also have Ryan G on the phone to chat to us about what we should be seeing at the Movies.
Plus we talk  INXS, Winter Olympics and much more.
Make sure you tune in Sunday, Midday to 2pm on 88.3 Southern FM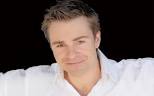 Related Posts: