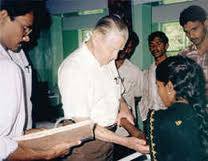 Listen again to the story of the man who conquered leprosy, Doctor Paul Brand. He was a devout Christian motivated by his Christian values. Broadcast on Songs of Hope on 5 October on Southern FM 88.3
The prayer podcast is an evening prayer, Psalm 4, read by Max McLean.
Also included is the 5 October hymns podcast.
The last podcast is Songs of Hope songs podcast for 5/10/2014
Songs of Hope website: http://songsofhope883.com
Related Posts: