Glenn Shorrock and Brian Cadd interview with Mark Copolov on Purple Haze about their new collaborative cd (& tour) "The Story Of Sharky & The Caddman" – Podcast (2.5 hours)
In this podcast, 88.3 Southern FM 'Purple Haze' presenter Mark Copolov interviews 'live in the studio'  two Australian entertainment legends, Glenn Shorrock & Brian Cadd, who came in to talk about : their new collaborative cd 'The Story Of Sharky & The Caddman', their upcoming tours and about some of their past classic songs ranging from recordings by The Twilights, The Groop and Axiom through to The Little River Band.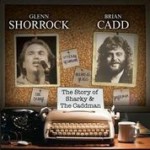 Glenn Shorrock's official website is www.glennshorrock.com
Brian Cadd's official website is www.briancadd.com
Click play below to hear the show in full.
Podcast: Download
Subscribe: RSS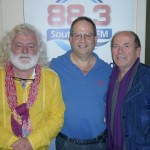 Brian Cadd, Mark Copolov and Glenn Shorrock at 88.3 Southern FM  (4/11/2013)
BIO:
ARIA Hall of Fame Inductees Glenn Shorrock and Brian Cadd have reunited for a studio album and National tour – The Story of Sharky and the Caddman. The album is in store on October 18, with the national tour kicking off in November 2013.
Shorrock and Cadd are Australian Musical icons – both known for their incredible songwriting and performing talents. They first collaborated in 1969 when they formed Axiom, an Australian 'supergroup' designed to take on the English Market. Through Axiom they had huge Australian hits including Arkansas Grass, A Little Ray Of Sunshine and My Baby's Gone.
Throughout the years, Shorrock (Little River Band) and Cadd (The Groop and esteemed songwriter) have collaborated on various projects and their latest, The Story of Sharky and the Caddman is something quite spectacular.
The Story of Sharky and the Caddman features a wonderful collection of Axiom songs, a selection of Shorrock and Cadd's own timeless hits and some exciting new material, all bathed in the magic of this renewed ensemble.
The album was recorded in Melbourne with legendary engineer Doug Brady and a superb band featuring Axiom drummer Doug Lavery and Chris Stockley, together with See and Mason.
On the collaboration Cadd says "The two of us have been mates since we were little more than kids. Musically we just always seemed to click and our voices have a most unique sound together. We've certainly been on all the rides and every step and adventure has been laced with humour and fun. It happened all during the recording sessions and I'm certain will continue on the road. The status remains very much quo".
"In recent times Brian and I talked about a reformation of Axiom which was a fairly brief but wonderful part of our musical lives…and which spring boarded us both into the international music scene. This album and tour is made especially enjoyable by the inclusion of Stockley, See and Mason as well as our original Axiom drummer Doug Lavery in the lineup." Says Shorrock.
Shorrock is best known as part of the internationally acclaimed Little River Band and mega hits including Reminiscing, Help is on Its Way, Home on a Monday and the classic Cool Change. In, addition to success with The GROOP, Cadd has penned songs for Joe Crocker, Ringo Starr, The Pointer Sisters, Bonnie Tyler, Charlie Daniels and many more.
TOUR DATES – 'The Story Of Sharky & The Caddman'
Nov 21 – Shepparton / Eastbank Concert Hall
Nov 22 – Griffith NSW / Griffith Regional Centre
NOV 23- Denilliquin RSL
Nov 30 – Melbourne / The Palms at Crown
Dec 5 – Mandurah Performing Arts Centre WA
Dec 10 – Barossa Arts & Convention Centre Tanunda SA
DEC 12 – Northern Festival Centre Port Pirie SA
DEC 13 – Her Majesty's Theatre Adelaide
Dec 14 Chaffey Theatre Renmark SA
Dec 15 – Sir Robert Helpmann Theatre Mt Gambier SA
DEC 31 – New Years Eve with Brian Cadd – Bayview Eden Hotel Melbourne
Feb 19, 2014 – Glasshouse Theatre Port Macquarie
Mar 6, 2014 – Brisbane Conservatorium Of Music
Mar 7, 2014 – The Events Centre Caloundra QLD
Mar 8, 2014 – Empire Theatre Toowoomba QLD
Mar 9 2014 – Ipswich Civic Centre QLD
Other podcasts by Mark Copolov include :
– interviews with Russell Morris, Normie Rowe, Colleen Hewett, Micky Dolenz, Paul Anka, David Essex, Daryl Braithwaite, Gene McDaniels, Mike Heatley, Andy Timmons, 'Live In The Studio #1 & #2 (misc. local acts)' & Derryn Hinch.
Website details :
88.3 Southern FM : www.southernfm.com.au
Mark Copolov : www.mcopolov.com      mcopolov1@nullbigpond.com
Purple Haze is sponsored by Classic Cars with Character
Related Posts: