Paul Anka with Mark Copolov on Purple Haze – Podcast
In this Podcast, Mark Copolov interviews Paul Anka, who was one of the biggest teen idols of the late '50s. Paul moved on to become a successful performer, songwriter, music businessman, record label owner & recording artist. Paul talks about his new cd, 'Songs Of December', as well as some of his huge hits, which include Diana, Lonely Boy, You're Having My Baby.
He also talks about some of the songs he wrote for other artists, which include :
'It doesn't matter anymore' (Buddy Holly), 'This is it' (Michael Jackson), 'She's a lady' (Tom Jones) & his masterpiece 'My Way' (Frank Sinatra).
Click play below to hear the show in full.
Podcast: Download
Subscribe: RSS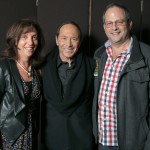 Paul very kindly had my wife Rachel & I as his guests to his amazing concert in Melbourne, March 2014. Paul the audience in the palm of his hand from the very first to last note of the concert. Paul was the ultimate showman and wonderful host.
Purple Haze is sponsored by Classic Cars with Character
Related Posts: