Education for poor Australians – podcast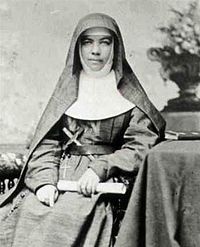 Listen again to the story of Mary MacKillop, broadcast on Sunday 18 October, on Songs of Hope. She is Australia's one and only saint in the Catholic church. She was an Australian nun who founded a congregation of religious sisters that established a number of schools and welfare institutions throughout Australia. Her emphasis was education for the rural poor. Play time is 5 minutes.
Songs of Hope gospel podcast includes the following songs:
Where He leads me – Blind boys of Mississippi
Working on a building – Swan silverstones
Pray on – Staple Singers
Words for Life podcast is the talk by local pastor Ian Mitchell. Its his recent Fathers Day sermon, and in entitled "A Dysfunctional Family".
Our prayer podcast is a prayer by Queen Elizabeth I. It is a grace for praying before mealtimes
The songs podcast for 18 October 2015 includes:
Lord reign in me – UK's top 30 worship songs
We are the light – Lisa Couper
Lord I give you my heart – Hillsong
Podcast (2): Download
Subscribe: RSS
Podcast (3): Download
Subscribe: RSS
Podcast (4): Download
Subscribe: RSS
Podcast (5): Download
Subscribe: RSS
Podcast (6): Download
Subscribe: RSS
Podcast: Download
Subscribe: RSS
Songs of Hope website: http://songsofhope883.com
Related Posts: