She risked life and limb – podcast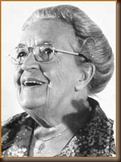 1. Listen again to the story of Corrie ten Boom. She and her family risked life and limb to shelter Jews from the Nazis in Holland during World War II. Broadcast on 3 Aug 2014 on "Songs of Hope" during the "Christians who made a difference segment".
2. Songs of Hope hymns podcast for 3 Aug 2014 includes:
Thy hand O God has guided – Blackburn Cathedral choirs
Ye servants of God – St Michaels singers
Glory to God – J M Talbot
3. Words for life talk of 20 minutes is by Rev Kevin Pedersen of Ormond Anglican church. The title is "David and his legacy". There are consequences of our actions even if we are forgiven.
4. Prayer – the sacrifice God wants is a thankful heart. Psalm50v1to8 and 23 to 24. Read by Hugh Elphinstone.
Podcast (2): Download
Podcast (3): Download
Podcast (4): Download
Podcast: Download
Click the play button for the audio or right click download to download.
Songs of Hope website: http://songsofhope883.com
Related Posts: