Songs of Hope podcast 1 Dec 2013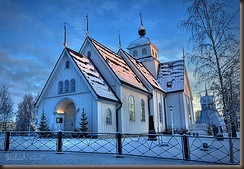 Listen again to one hour of Christian praise and worship. Broadcast on 1 December 2013 on "Songs of Hope" on Southern FM, 88.3 in Mentone, Melbourne, Australia. Includes both traditional hymns and modern worship songs.
Podcast (2): Download
Subscribe: RSS
Podcast: Download
Subscribe: RSS
Click the play button for the audio or download. Play time is one hour.
Songs of Hope website: http://songsofhope883.com
The church above is in the town of Pitea in Sweden.
Related Posts: