Dennis Smith (top Australian entrepenuer) interview with Mark Copolov on Purple Haze (podcast of exactly 2 hours)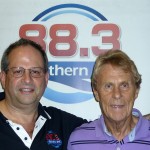 Dennis & Mark at 88.3 Southern FM  (13/3/2014)
In this podcast, 88.3 Southern FM 'Purple Haze' presenter Mark Copolov interviewed top Australian music entrepreneur Dennis Smith 'live in the studio', on Thursday March 13th 2014. Some of the topics Dennis & Mark talked about included : Dennis's work on the 60's music show 'The Go Show' which gave so many Aussie artists their start. They also talked about some of the many local & international music stars that Dennis has toured Australia with, including : Jerry Lee Lewis, Rod Stewart, Peter Allen, Cilla Black, Johnny Cash, Chubby Checker, Randy Crawford, Gerry & the Pacemakers, Dr Hook, The Hollies, Helen Reddy, Roy Orbison, Gene Pitney, Neil Sedaka & Leo Sayer. Dennis also explained how he was heavily involved with Johnny O'Keefe during the 70s.
They also talked about the upcoming major national tour that is planned in August this year for the 50th Anniversary of the Go show.
Click play below to hear the show in full.
Podcast: Download
Subscribe: RSS
DENNIS'S BIO :
From 1964 – 1968 Dennis produced the national teenage television program the GO!! Show for the Channel O Network.  Many of the artists on the show became national stars and Melbourne became the pop music capital of Australia. From 1970 Dennis began producing and presenting theatrical and concert attractions in Australia, New Zealand and the UK. From 1980 – 1994 he was personal manager to Barry Humphries and produced and presented Mr Humphries' theatrical offerings worldwide with three seasons in London's West End including a season at Theatre Royal Drury Lane and the Strand Theatre and two extensive UK regional tours.
Other Australian theatrical productions include national tours of The Odd Couple with Jack Klugman and Tony Randall, Jeffrey Archer's Beyond Reasonable Doubt with Frank Finlay, Ain't Misbehavin', Noises Off and Beehive. Dennis created and produced Dusty – the Original Pop Diva which toured Australia in 2006 and which is planned to open in London next year. His most recent productions include Shout! the Johnny O'Keefe musical, and theLondonproduction of Guys and Dolls both of which enjoyed successful seasons in Melbourne and Sydney.
International concert attractions include national and international tours with Cliff Richard and the Shadows, Kenny Rogers and Dolly Parton, Rod Stewart, Tina Turner, Sir Harry Secombe, Peter Allen, Charles Aznavour, Cilla Black, Victor Borge, Max Bygraves, Glen Campbell, Johnny Cash, Petula Clark, Chubby Checker, Randy Crawford, The Commodores, Dick Emery, Gerry & the Pacemakers, Dr Hook, The Hollies, Jerry Lee Lewis, Johnny Mathis, Shirley MacLaine, Don McLean, Helen Reddy, Des O'Connor, Roy Orbison, Gene Pitney, Charley Pride, Lou Rawls, Neil Sedaka, Leo Sayer, George Shearing, Tina Turner, Village People, Dionne Warwick and many others.
Dennis has presented most of the major Australian artists in concert and cabaret over the past 40 years including MPD Ltd. In 2011 he produced GO!! Show Gold, a major reunion concert featuring the stars of the GO!! television show.  Such was the success of the show that it has toured every year since.
The first GO!! Show went to air on 4 August 1964.  A major national tour is planned in August this year for the 50th Anniversary.
Other podcasts by Mark Copolov include : interviews with Russell Morris, Normie Rowe, Colleen Hewett, Brian Cadd & Glenn Shorrock, Johnny Young, Micky Dolenz, Paul Anka, David Essex, Daryl Braithwaite, Gene McDaniels, Mike Heatley, Andy Timmons, 'Live In The Studio #1 & #2 (misc. local acts)' & Derryn Hinch.
Website details :
88.3 Southern FM : www.southernfm.com.au
Mark Copolov : www.mcopolov.com
Mark's email :  mcopolov1@nullbigpond.com
Purple Haze is sponsored by Classic Cars with Character
Related Posts: